Cooking is one of the things that both of my sons wanted to learn over the summer vacation, so I am holding a weekly cooking class for them. For our first official "class", I decided to start with something super simple – an easy monkey bread recipe with biscuits.
Monkey bread is something that Michael loved when he was a little boy but I haven't made it in years. I'm not sure if Sean had ever tasted it before we baked it together but both boys (and their parents!) enjoyed the final product.
I'm glad that we started out with this easy monkey bread recipe because it's not an "exact" recipe. Monkey bread comes out great even if you don't follow the steps exactly – which the boys did not do.

I showed them how to cut the biscuits into fourths, but they preferred to tear them into fourths instead. Then, they made a cinnamon and sugar mixture that they placed into a plastic bag to shake the biscuit pieces in.

At one point, Sean was doing that as he danced around singing Michael Jackson's "Shake it, shake it, baby. Come on now!" However, when I came back after leaving the kitchen for a while, I noticed that (in an effort to save time), Sean was just sprinkling the mixture on a bunch of biscuits on a plate.

I'm all for efficiency, but I don't think that he realized the purpose of shaking each piece in the bag was so that BOTH sides of the dough would get covered. Michael's comment was "I'm not sure if the baking life is for me". Alrighty then!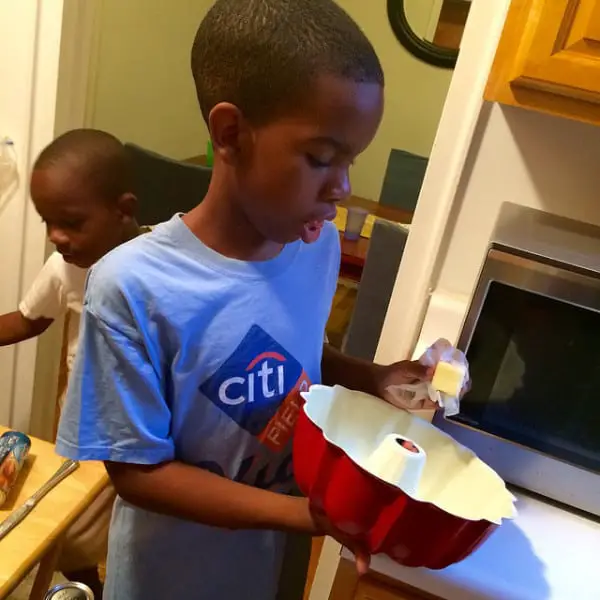 It's interesting…both boys are really exact when it comes to their academic studies, but they are going to have to work on following directions when it comes to cooking and baking. It should be a fun learning process.

At the very least, it will be a fun boredom buster. If you would like to make monkey bread with your kids, here's the recipe:
Easy Monkey Bread Recipe With Biscuits
Easy Monkey Bread Recipe (with Biscuits)
Yield: 8-12 servings
Ingredients
3 (12 oz) tubes of refrigerated biscuits
3/4 cup white granulated cane sugar
2 tsp cinnamon
3/4 cup dark brown sugar
1 stick of unsalted butter (or margarine)
1 tsp pure vanilla extract
Instructions
Preheat oven to 350 degrees Fahrenheit.
Lightly cover the baking surface of a 12-cup Bundt pan with butter, margarine or cooking spray.
Cut each individual biscuit into fourths.
Mix the white sugar and cinnamon together in a plastic bag.
Place several biscuit pieces into the bag at a time and shake the bag until each piece is covered with the sugar/cinnamon mixture.
Drop the biscuit pieces into the Bundt pan.
Place the brown sugar, butter and vanilla into a small saucepan, stir it all together and bring the mixture to a boil.
Evenly pour the sugar/butter/vanilla mixture over the biscuits in the Bundt pan.
Bake the monkey bread in the oven for 45 minutes.
Once the bread is complete, flip it over on a plate.
Some people also add raisins and/or nuts to their monkey bread before baking it, but we like this version the best. Monkey bread recipes basically have the same gist with little differences based on who taught you to make it (i.e. some people leave out the vanilla and some people use all white sugar).

This easy monkey bread recipe is just the way that I remember making it. The best part about this recipe is that it leaves room to experiment.

Monkey bread is best served warm. If you happen to have some vanilla ice cream available too, they make a wonderful pairing. Enjoy!
If you found this recipe helpful, please share it. Thanks!
You Might Also Like:
{This post has been updated and republished. This recipe was originally posted on July 16, 2015.}